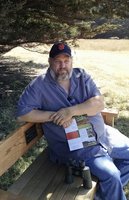 Matthew Edward "Matt" Carpenter
June 13, 1963 - August 25, 2019

Matt went to sleep late Saturday night and left us to wake up in Heaven as the day turned to Sunday. He was the gentlest of giants with a deceptively gruff exterior, the most beautiful twinkling blue eyes and a laugh that you could hear from hundreds of feet away. He loved sports, especially baseball, rock music from the 50's to the 90's and all things John Deere, which lead to a nearly 30 year career working as the greatest Parts Manager in the region. Matt's knowledge of baseball statistics and music were encyclopedic and astonished everyone who ever discussed either topic with him. It was a great delight to him that all of his favorite teams; the SF Giants, Oakland Warriors and SF 49ers all won multiple championships in his lifetime.

Matt is survived by his wife of 34 years, Mariann; his parents, Charles and Nancy Carpenter; his in- laws, Jim and Pat Renfro; brothers, Doug (Michelle) and Andrew; brother-in-law, Michael (Sandra); and his much beloved nieces and nephews: Kylie, Josh, Nate, Alex, Cole, Briana and Jordan. Matt is also survived by his loving uncles, Ed Roberts (Alice Chindblom) and James (Maureen) Carpenter and cousins Sara Williamson (Phil) and Jeffrey Roberts.

He was the hero, heart and protector of our family and we will miss him forever.