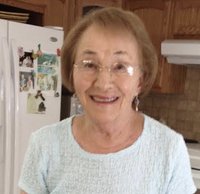 Delfa Grigg
Delfa Fay Grigg
July 13, 1926 - August 30, 2019
Our Mother, Delfa, 93, passed away due to complications from a fall. Her daughter, Tana, was at her side and holding her hand when she passed.
Mom was a twin (sister Delma Montoure) born in Jacksonville, Oregon. For most of her childhood, Mom lived in Oregon, moving to Vallejo, California during her high school years, graduating with honors. Mom met our Dad, Forrest "Fo" Grigg, during those high school years and they were married on March 28, 1945.
Delfa worked as a secretary at the Naval Hospital in Vallejo during the war years and in 1963 she began her career as a secretary at the Vallejo Unified School District. When she retired she was the Executive Secretary to the Superintendent, a job that she was very proud of and enjoyed for many years.
Delfa and Fo retired to Lake County and their dream home on Pirates Cove in Clearlake Park. Dad passed away in 1990 and soon after Mom moved to Del Lago in Lakeport, where she served on the board of the homeowners association.
Mom was a member of the Lakeport Women's Civic Club and The Lake County Arts Council. Mom began her painting career after she retired and went on to win many ribbons over the years at the Lake County Fair. Her work was also displayed at the Lake County Court House in Lakeport.
Delfa enjoyed travel, oil painting, golf, water skiing, walking, reading and camping, just to name a few. She took flying lessons at the age of 68, fulfilling a life long dream.
Delfa was predeceased by her husband, Forrest, twin sister, Delma and brother in law, Del. She is survived by her daughter, Tana, son Garry, daughter in law, Doreen and grandson, Sean (Angel).
Our family is so grateful to Hospice Services of Willits, California and Mountain View Assisted Living and Memory Care, in Ukiah, California, for all their loving assistance during a very difficult time.
There will be a Celebration of her Life (lunch) on October 5th from noon to 2 o'clock at the Del Lago Cabana, 100 Via Del Lago, Lakeport, California. Please join us.
In lieu of flowers contributions can be made to:
The Alzheimers Association https://alz.org
The American Macular Degeneration Foundation
www.macular.org/how-donate