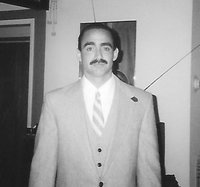 Robert Edward Moore
Robert Edward Moore
(Bob)
Bob was born March 14, 1967 in Richmond Hospital, Richmond, CA. He lived in Richmond until he was 16 years old, and then moved to Lakeport, CA with his parents Edward John Moore and M. Lavonne Griffin Moore.
He was a painter of homes by trade and worked in the Santa Rosa, CA area for about 10 years. He returned to Lake County in 1990 and he met his wife, Elisa M. Murphy Moore. They had three sons, Ian A.,Malcom E., Dyllan J. Moore.
They divorced and his family moved to Spring Valley, CA. Bob lived in Nice, CA for the remainder of his life. Bob passed away and went to be with the Lord on Sept 01, 2019 at Sutter Lakeside Hospital in Lakeport, CA.
He was predeceased by his brother, Wm. R. Moore II; uncle, W. r. Moore I USMC; his great-grandmother, Florence R Moore-Marston; his grandparents, Wm. A. Moore-Elsie F. Neves Moore, Robert J. Griffin and Bertha Louise Swafford Griffin.
He leaves behind his parents, Edward John Moore and M. Lavonne Griffin-Moore; his children; his brother, Anthony John (Tony) Moore; sister-in-law, Becky S. Moore; nephew, Wm. R. Moore III; a niece, Christina M Moore; his aunt, Donna M. Griffin Martin; and many 1st cousins and 2nd cousins who reside in Utah.
At Bob's request there will be no services, he will be cremated at the Chapel Of The Lakes Mortuary in Lakeport, CA.
Thank you all for your kind calls and notes. The Moore Family