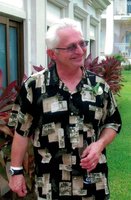 Gary Steven Ungewitter
Gary Steven Ungewitter
A loving Husband, Pops, Dad, Papa Witter, and true friend to all who knew him, Gary Steven Ungewitter, 68, passed away at home on September 20, 2019 after losing his battle with cancer.
Gary was born on August 14, 1951 in Lakeport California to William and Martha Ungewitter and spent the remainder of his life in Kelseyville.
In 1995 Gary met the love of his life, Valerie while working at Gard Street School and married her 2 years later.
Gary leaves behind his wife, Valerie; son, Steven; adopted daughter, Heather (Tate); step-son, Thomas (Maggie); grandchildren, Cyrus and Bella; along with lifelong friends Barry, Bill, Brian, Charlie, and Leroy.
In lieu of flowers, please consider donating to Hospice of Lake County or the Kelseyville Fire Department who lovingly cared for him.
Celebration of Life will be held at Kelseyville Lions Club on November 16, 2019 at 1:00. Please bring your memories to share with his family.