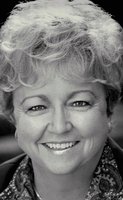 Linda F. Vegas
Linda Fay Vegas passed away peacefully in her sleep on November 12th of 2019 at the age of 77 years old. Linda will always be remembered as a beacon of light, we will cherish the memories of her warm smile, big greetings, contagious laugh, never ending love, and endearing support.
She is survived by daughter and son-in-law, Kelli and Stephen Bernstein; grandchildren, Johnathan & Nicole, Nicholas, Michelle and great grandchildren, Maynard and Sophia.
Linda always had love for the simple things, spending time with family or playing cards with her mother, Frances and best friends, Bonnie and Freda on a Saturday night. Growing up in a golf family, Linda was known as a shark on the golf course. She was also an avid bowler and pinochle player. Golf course, bowling alley, or card table Linda had a competitive spirit which also extended to the road. She loved to drive and her pride was her 1974 Blue Corvette Stingray and her personalized L Vegas license plate.

Linda loved listening to Bob Seger, the Eagles, or Country Western music, but her favorite singer was Elvis Presley. Linda would often share stories of her Uncle Skeeter's Limo service in Las Vegas and his encounters with The King. On one very special occasion she along with her parents Henry and Frances attended an Elvis concert courtesy of her Uncle Skeeter. This would be a night Linda would never forget. For this was the night Elvis Presley sang a song directly to her while holding her hand. At the end of the song Elvis leaned down from the stage and kissed both Linda and her mother Frances.
After moving to California as a teenager Linda started her first job with a local bank, Crocker National, as a teller at age 16. Little did she know at the time that would lead her to a career that spanned 50 years in the banking and real estate industry.
Given Linda's love for her career, diligence and magnetic personality she spent 25 years as the VP of Wells Fargo N.A. Northern California Escrow Division in San Jose, Ca. until retiring as VP of Equity Exchange in Palo Alto, Ca.
At age 21 Linda found love and married Raymond Vegas, although the marriage did not last, they were blessed with their only child Kelli. Linda always cherished her in-law side of the family and their relationships remained strong through the years.
Her later years were spent in retirement in the loving care of her younger sisters, Janice and Deborah in Clear Lake, California. Linda always loved being in Clear Lake, visiting the Casino with her niece, Chrissie and her sisters, Deborah and Janice. Her memory will always be cherished for her warm smile, big greetings, never ending love and endearing support for her family.
She is also survived by her sisters, Janice Gibson and Deborah McSpadden. Surviving nieces & nephews, Victor and Rebecca Rogers, son Daniel, and daughter Jennifer. David and Chrissie Chavez, son Michael Kuzinich Jr. and daughters Amanda, Kimberly and Lisa. Heather Turner, sons Ryan and Jake and daughters Zoe and Katie. In-Laws, Mother in-law, Lydia Vegas, sister and brother in-law Margo & Leonard Dos Santos and their loving families.
She is preceded in death by her parents, William (Henry) and Frances McSpadden, her brothers, Bill McSpadden, Bobby McSpadden and niece, Crystal Rogers.